Dr. Dina Mahmood
Child & Adolescent Psychiatrist
MBChB, RANZCP, CertCAP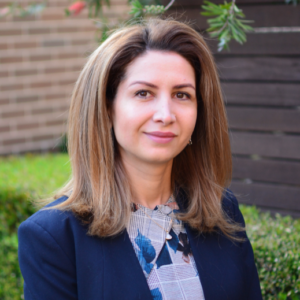 Dina's Specialty Areas Include:
Trauma
Mental health of children with medical conditions
Neurodevelopmental Disorders
Functional Neurological Disorders
Avoidant Restrictive Food Intake Disorder (ARFID)
Depression and Anxieties in Childhood
First episode of psychosis
ADHD
Dina Mahmood is a paediatric psychiatrist skilled in assessing and treating infants, children and adolescents with a broad range of social, emotional and behavioural difficulties. With particular interest in trauma, neurodevelopment and mental health of children with medical conditions. Her approach is compassionate, holistic and acknowledges the journey and values of young people and their families.
Being the medical lead of a dynamic Consultation-Liaison team at the Children's Hospital Westmead where she looks after patients with complex struggles throughout childhood, she is comfortable with the ongoing care of children using a range of medical, psychological and family therapies in order to assist them reach their own best outcomes with an evidenced-based plan underscored by safety and hope. She is trained in Eye Movement Desensitisation and Reprocessing therapy (EMDR).
Dina holds profound insights into trauma and recovery from her lived experience in war and displacement and professional engagements with vulnerable communities in Iraq, Jordan and Australia. She completed her basic training in psychiatry with the Hunter New England Health area and attained a specialist training certificate in Child and Adolescent Psychiatry. In 2018 she was awarded a training fellowship in developmental psychiatry and early intervention with Health Education and Training Institute (HETI).
Beyond her clinical pursuits, she spends valuable time in health advocacy on the local and global fronts. Dina is the current psychiatry councillor with the Australian Medical Association (AMA) NSW and coordinates a program for early careers with the International Association of Child and Adolescent Psychiatry and Allied Professions (IACAPAP). She is well involved in the training and development of child and adolescent psychiatry services in Iraq.